---
Corey Hughes Education

"To keep our staff at the top of their game on safety we have incorporated Quick Access into our drills and training events. What a different this had made in our level of preparedness in protecting our kids." Everyone in our schools have a higher level of comfort when it comes to safety since all of our staff have emergency procedures at their finger tips, regardless of where they might be."

Candis Jones Medical

"We recently had a bomb threat that affected multiple locations within our healthcare system. Fortunately it was fake, but with Quick Access our staff had the procedures and were able to respond quickly. We communicated through the Alert feature to keep everyone updated which took one seconds compared to the way we used to communciate."

Selena Klees Industry

"It is so important for our employees to understand the meaning of sexual harassment and the requirement to report violations, we provide our employees with the policy and reporting procedures, along with other critical polices on the Quick Access menu." We love the way Quick Access can be customized to fit our specific needs.".

Phil Nowack Financial

"With Quick Access our main bank and numerous branch facility employees have instant access to not only our Emergency Plan but critical procedures and practices. We can transmit alerts across all branches with just a single touch of the App's alert feature. We really like that we can set access to procedures and practices based on the level of responsibility of the associate."

Kristy Slack Hospitality

"We had a utility issue potentially causing a significant financial loss, not to mention having to move large numbers guests. Fortunately, the desk person had the utility shut-off procedures on their phone in Quick Access. Arriving on the 7th floor he was able to quickly isolate the break and turn off the water. Just that one incident made our use of Quick Access a great decision."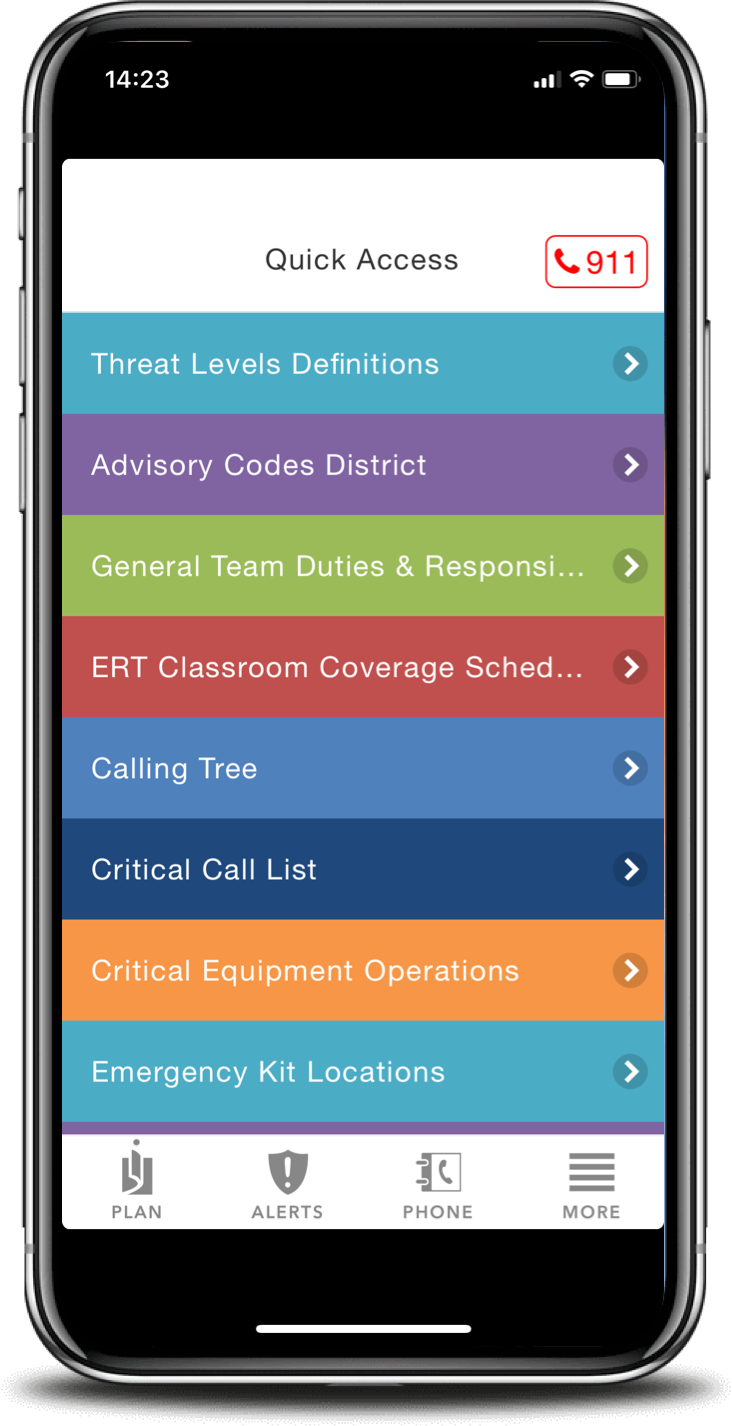 Everything Needed to Respond in Seconds
Execute the plan:

Your crisis response plan gives your staff critical, life-saving information when they need it. Plans are saved on the device for quick and intuitive access while staff are under duress.

Receive relevant alerts:

Alerts give your staff real-time information as a crisis or emergency unfolds. Alerts allow the response team and other staff members the details needed to act quickly—mitigating the negative effects of a crisis as much as possible.

Take the Panic out the Panic Button:

With the customizable, built-in panic button at their finger tips, staff can request help or hail emergency responders immediately—without the need to ever leave Quick Access and the response plan it stores.
Still not sure whether Quick Access is right for your incident management team?